Bavaria Experiencing
>
Bavaria - The Kids Country
>
Adventure Pools
>
Alpamare Bad Tölz
Alpamare Bad Toelz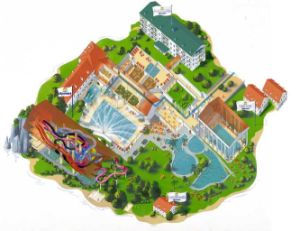 This water park in Bad Toelz offers relaxation as well as a lot of action. Germany's longest slides and Europe's first artificial surf wave provide a great thrill. In the five warm water pools (2,100 square meters) you will be able to relax.
The outdoor area features a salt water pool with lie-in basin, bubble pool, music pool, Jacuzzis, massage jets, shoulder showers and benches with integrated air jets - the perfect place to wind down. For those who are after some action, the wave pool is exactly the right thing. If you prefer to relax you will love the spa, the sauna area, the steam bath and the iodine inhalation facility.
Even more action is to be found on the slides complex. Race down one of the seven slides, for example the popular Alpabob. The ride in a rubber bob takes you down the 330-meter-long slide, through rapids, swirls and a water carousel. On the racy slide Alpa-Run people go down heads first on little mats. An inclination of 60% guarantees a great adrenalin rush. The run down one of the canyons is even steeper, with over 50km/h you go down a 92% slope angle.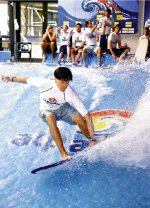 The 110-meter-long Cobra slide offers wide, soft curves and a more relaxed ride. One of the highlights is the double bob tube slide. In the "Thriller" you will have to overcome water flashes, thunder, "oncoming traffic", a water fence and an explosion. In the "Gaga" slide you are devoured by a pink octopus. Inside this octopus lots of crazy things await you.
Sporty guests might want to have a go at the Endless Peak, the world's first artificial indoor surf wave. It creates a standing wave, comparable to the "Eisbach" in Munich, but less cold and accessible for everyone. Beginners have a ride on their tummies, whilst experts ride the wave standing upright.
alpamare
Ludwigstraße 14
83646 Bad Tölz
Tel. 08041/509910

www.alpamare.de