About Bavaria
>
Culture
Bavaria's state culture
Bavarian people can be proud of more than 1000 years of cultural and intellectual history. Section 3 of the Bavarian Constitution quotes that Bavaria is a culture state. Since 2003 the Free State has spent more than 500 million Euro of its budget per year on the support of art and culture, significant donations from both Bavarian communities and private sponsors follow in addition.
Religion and tribes
1. Roman Catholic 58.50% in 2003 (71.90% in 1950)
2. Protestant 23% (26.80% in 1950)
3. Other confessions and religions 4%
The Bavarian nation is composed of four officially recognized tribes: three native tribes, namely Old Bavarians ("Baiern"), Franconians, Swabians and more than two million refugees and expellees after 1945. Sinti and Roma people have a long tradition in Bavaria. Yeniche people are also native in Bavaria.
Bavaria and its customs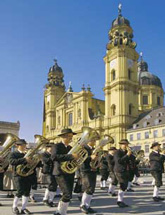 Traditions and customs enjoy a high status in Bavaria. Folk songs, folk dances and folk music are practiced in many Bavarian towns and townships. Traditions are carried on by culture clubs, societies for traditional costumes, folk dance groups and bands.
Some of the traditionally known home festivals such as the "Tänzelfest", a dance festival in Kaufbeuren, and the "Kinderzeche", a pageant in Dinkelsbühl, are held particularly for children.
Medieval knight tournaments can be watched in Kaltenberg and Kiefersfelden. Numerous other historic pageants such as the "Landshut Wedding" (Landshuter Hochzeit) in Landshut, the "Meistertrunk" ("Master Draught") in Rothenburg ob der Tauber, the Wallenstein Festivals in Altdorf near Nuremberg and the Frundsberg Festival in Mindelheim can be enjoyed in addition. The slaying of the dragon (festival in Furth im Wald) is based on an old myth.
Architecture and monuments
The Bavarian architecture shows historical evidence of more than 1200 years of history. It ranges from the 8th century ring crypt of St. Emmeran near Regensburg to the impressive tent roof in the Olympic Park in Munich.
Romantic and Gothic styles are represented by churches and monasteries such as Altenstadt, Ebrach and St. Lorenz in Nuremberg and cathedrals in Augsburg, Bamberg, Freising, Regensburg and Würzburg.
Augsburg's Fugger Chapel St. Anna was built in the 16th century and it was the first Renaissance building errected north of the Alps. The Residence in Landshut, the Hirsvogel Hall in Nuremberg and Munich's former royal stables "Alte Münze" (literally "Old Coin") are further highlights of this era, which ceased with the completion of Augsburg's city hall by Elias Holl.
The magnificence of Baroque and Rococo is represented by a huge number of buildings:
Churches, the Wies Church near Steingaden in particular, the Chathedral in Passau, the basilica "Vierzehnheiligen" ("Basilica of the fourteen saints") near Bamberg or the Weltenburg monastery at the river Danube
Monastries such as Rohr, Ettal, Andechs, Ottobeuren or Waldsassen, and Roggenburg
Würzburg's Residence, Munich's Residence, Nymphenburg and Schleißheim Castles
Theaters such as the Cuvillés-Theater in Munich, the Margrave Opera House in Bayreuth or the Margrave Theater in Erlangen
Parks and city ensembles such as Eichstätt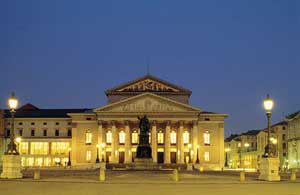 Architectural achievements of the 19th century are closely associated with names like Leo von Klenze and Friedrich von Gärtner. Conducted by King Ludwig I, both of them significantly characterized Munich's image with their buildings. Their most famous buildings include the Walhalla near Regensburg and the Hall of Liberation in Kelheim. A number of 19th century industrial buildings in Augsburg and Nuremberg as well as some regular 20th century buildings are already now considered significant monuments.
With 11000 sacral and secular buildings and 40000 archaeological sites Bavaria is rich in monuments.
Film
In 1979 the Bavarian Film Award was assigned for the first time. Today, this award with a total prize money of more than 400,000 Euro is the most sought-after of its kind besides the German Film Awards.
The diversity of the culture state Bavaria manifests itself in a large number of renowned film festivals with a variety of topics such as New German Cinema, children's film, short film or documentary film.
Visual arts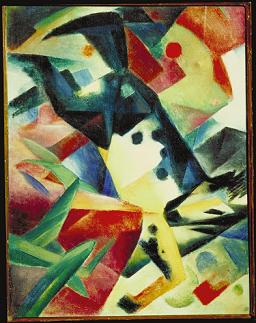 The beginnings of Bavarian visual arts originate from Carolingian book painting and goldsmiths' art (Tassilo Chalice). Significant evidence of Gothic sculptures is found in the cathedrals of Regensburg and Bamberg (The Bamberg Horseman).
Sculptors Veit Stoß and Tilman Riemenschneider, as well as painters such as Hans Holbein the Elder mainly characterized the change from the 15th century to the 16th century. Nuremberg's Albrecht Dürer is the most significant representative of German Renaissance.
Major sculptures emerged in churches built by the Asam brothers during Baroque and Rococo. Ignaz Günther and Joseph Feuchtmayer designed the opulent furnishings in churches built by Balthasar Neumann and Dominikus Zimmermann.
Munich took the lead in the advancing landscape art at the time around 1800. Excellent artists include Carl Spitzweg, the master of genre works, realist Wilhelm Leibl, the most important portait painter of the Gründerzeit (neo-renaissance style), as well Symbolists Franz Lenbach and Franz von Stuck.
The inception of Munich's Modernity started at the beginning of the 20th century. "Der Blaue Reiter", a group of artists including Wassily Kandinsky, Franz Marc, Gabriele Münter, August Macke and Paul Klee, broke with conventional shapes and set a new benchmark.
Willi Baumeister, Fritz Winter and Ruprecht Geiger are among the most important post-World War II painters. Avant-garde is represented by artists such as Bernd Zimmer, Alf Lechner and Fritz Koenig.
Intercultural Bavaria
The cultural diversity of Europe and the rest of the world is mirrored in the work of foreign cultural associations located in Bavaria. An extraordinary range of inter-cultural associations, cultural institutions and gathering places is available for anybody interested in the cultures of our European neighbors England, France, Spain, the Kingdom of the Netherlands, Italy, Finland and America, anybody who is curious about Poland, Hungary, Russia or Turkey, and for those who want to go on an expedition to Japan, India, Nepal, the Philippines, South Africa or Brazil.