Vacation Regions
>
Upper Bavaria
>
Munich's Surrounding Region
Google-Maps Munich`s surrounding region
Vacation in Munich's Surrounding Region (Münchner Umland)
Spend Some Quality Time in the Area Near the "Cosmopolitan City with a Heart."

Enjoy the tranquility of the countryside around Munich rising towards the Alps and experience the many cultural highlights and sights of the city.
The Oktoberfest Beer Festival (Oktoberfest) and Christmas Fair (Christkindlmarkt), opera festivals and the "Biennale", a recreational paradise, center for research and teaching and "village of a million people": Munich and its environs is all of that and much more. A region packed with art, culture and joie de vivre that makes life hum. Enjoy the region and its capital with its enticing flair that puts a spell on people from all over the world.
Holidays at home

On weekends the people of Munich love to spend their leisure time in Munich's surrounding region with all the activities it offers. It takes only a 30 minutes car-journey to get away from the city's noise and into beautiful countryside. It is, however, not only the appealing countryside that entices innumerable city dwellers away from within the City walls: You can take a bath in one of the many lakes in summer or go on cycling tours through calm and restful woods or villages, where you can often find an idyllic beer garden. Munich's surrounding region is also part of the city's rail network (S-Bahn), so you don't have to go by car.
A huge number of families with children has moved to the region because of it is quieter and offers great playing opportunities for their children.
Many famous places belong to the region of Munich and they are all worth visiting.
Freising
The oldest city in Upper Bavaria and its "hub to the world" - the Franz Josef Strauss Airport.
Fürstenfeldbruck - a place of culture and nature
Located between Munich and Augsburg, Fürstenfeldbruck is an adorable and lovable town along the River Amper. Once a former monastery grounds of the Cistercians, it now hosts a unique center for culture and events, which attracts more than 300,000 visitors every year with concerts, theater, comedy and exhibitions. The magnificent abbey church, a Baroque masterpiece, enjoys national fame. Contemporary art, regional history and the historic role of the monastery are shown in various exhibitions in the town museum, which is also placed in the former monastery grounds. The newly developed market place attracts many visitors with its beautiful tradtional town houses. The recreational area Pucher Meer and Fürstenfeldbruck's appealing region with its vast forest areas plus the wetlands of River Amper provide an ideal opportunity for enjoying the intact environment by bike or hike.
Dachau
... a town with more than 1200 years of history and a concentration camp memorial site in remembrance of the victims of the Nazi regime during Third Reich.
A ride to Grünwald is a smooth transition of the city limits.
This affluent residential area is known as the domicile of Munich's notables and celebrities. You may very well come across one of FC Bayern's soccer players, because the club's training grounds are close by.
Aying and Erding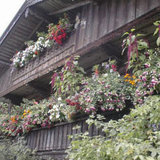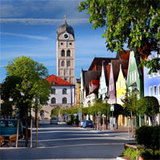 Though not direct neighbors, both thowns, Erding and Aying, are famous for their breweries. One is known worldwide and its products are available in nearly any corner of the Earth, the other one is indigenous with regionally focussed sales. Aying borders on the three districts Ebersberg, Miesbach and Rosenheim, and can be reached by urban trains. Besides its beer gardens, the town offers beautiful views, which can be explored on a cycling tour.
Erding is an appealing town with a special attraction: Therme Erding, Europe's largest thermal spa with a white sandy beach and real palm trees. Warm water emanates from the depths of Earth and the dome-shaped roof is opened in summer. Holiday-maker's paradise is right here!