Vacation Regions
>
Franconia
>
Nature Park Altmuehltal
>
Highlights

Highlights of the Altmühltal (Altmuehl valley)
An Eventful History over Thousands of Years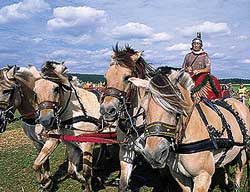 Spectacular findings from the Stone Age, Celtic grave sites and settlements, fascinating excavations, structures and treasures from Roman times, and the grave of the Original Bavarian - you can experience exciting history in the Nature Park Altmühltal.
This is not surprising, the Altmühl-Jura region has been attracting human beings for about 80,000 years.
Neanderthals and hunters from the Ice Age found shelter in the caves; the loess soil near the Danube allowed agriculture as early as 5000 BC; between the Bronze Age and Hallstatt Period mining took place; Celts built settlements; Romans secured the hinterland around the Limes Wall and built military structures, thermae, taverns, and residences; finally in the 4th century AD Germanic settlers moved here from the North: The Baiuvarii, the new masters of the country.
Baroque Structures and Fortified Towns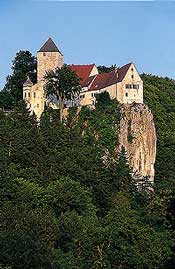 Graceful, majestic, and fortified - architecture and culture lovers will be enchanted by the Nature Park Altmühltal. The high society used to live here and pursue their politics from their residences: Powerful nobility, influential prince-bishops and congregations, wealthy merchants and brave knights dominated their period. Magnificent palaces, fortresses, and sublime churches and monasteries bear witness to this cultural history.
You will be enthralled by the well-preserved historic towns and buildings: Allow yourself to be amazed by the beauty and the splendor, by the exceptional and the witnesses of every-day life. Berching, Greding, and Wemding impress visitors with their medieval townscapes. Weißenburg has more than the Ellinger town gate to tell of its pride as a formerly free imperial town. Eichstätt is a baroque treasure, its residence square is counted among the most beautiful square ensembles of Southern Germany. The palace of Hirschberg near Beilngries, or the Palace Elliner "Deutschordenschloss" are two more magnificent baroque structures, while the Palace of Prunn is often called Bavaria's most beautiful castle.
Beauty Worth Saving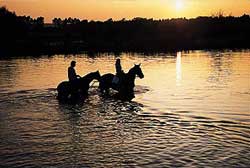 Millions of years and the strength of elementary power were necessary to create the landscape of the Nature Park Altmühltal out of the lagoons of the Jurassic Sea. Today, visitors are delighted by smaller and greater natural spectacles of a landscape that has always fascinated. To preserve this, efforts have been made for decades to live in harmony with nature.
Impressive rocks of Jurassic limestone, soft river turns, or sunny valley sides - the Altmühltal has many faces: Among those the Danube Gorge between Kelheim and the monastery of Weltenburg (which was awarded with the European Diploma of Protected Areas), the rock formation "12 Apostles" at Esslingen near Solnhofen, or the juniper moorland at Gungolding. These examples show clearly: This land is a valuable heritage - its beauty alone is reason enough to protect it.