Counties & Cities
>
Upper Bavarian Counties
>
Rosenheim County
>
Amerang
---
Hotels/Accommodation: no business registered - register your business - vicinity search
Food & Beverages: no business registered - register your business - vicinity search
Nightlife/Scene: no business registered - register your business - vicinity search
Shopping & more: no business registered - register your business - vicinity search
---
Amerang
Welcome to Amerang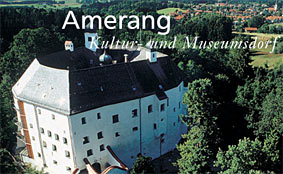 Situated in lovely Chiemgau, Amerang lies 15 km northwest of Lake Chiemsee, away from the stress and turmoil of the touristic centers. The village is surrounded by charming and varied landscape. It has kept traditions alive and inspires many guests with its three museums:
The EFA museum of German Automobile History with over 220 valuable exhibits from 1886 to today, the world's largest track 2 model railway and the farm house museum with century-old homesteads and estates which gives insight into 500 years history of rural life.
Another highlight is Amerang Castle with its pentagonal courtyard. The acoustics of this inner courtyard are excellent and draw visitors from all over to numerous concerts and theater performances.
There is a dense network of hiking and cycling trails. Particularly attractive are walks to the nearby moor lakes with their rare plants and animals. The local gastronomy offers highest quality.