Bad Aibling
With a View of Mount Wendelstein
The Upper Bavarian health resort Bad Aibling is nestled into the Mangfall Valley and characterized by numerous river courses and the view of Mount Wendelstein. It offers ideal surroundings for health-conscious people, nature enthusiasts, sportsmen and hikers: Flat countryside for cyclists, mountains for climbers, moor and thermal waters for those who want to relax. Another highlight is the new "Therme Bad Aibling".
Peaty moor for health-conscious visitors
In 1838, two country doctors and a pharmacist started reseaching whether the peaty moor around Aibling could be used for medical purposes. After seven years of experimenting, the foundations for the future health resort were laid. Treatment with peaty moor helps with female complaints, problems with the joints and rheumatic diseases. It is also good for skin care. Of course, other treaments like massages, brine baths and various forms of exercise therapy are also on offer.
Active Vacations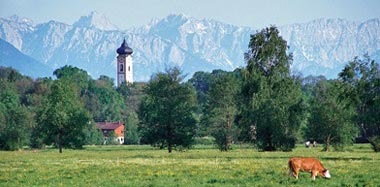 Bad Aibling is a great place for sport enthusiasts: nordic walking, golfing, tennis, mountain climbing, swimming, skiing or mountain biking - everything is possible. Mount Wendelstein invites to exciting climbing tours. For people who like to pace themselves a bit slower, there are lovely routes for walks or shorter cycling trips along rivers and meadows. Pubs attract with typical Bavarian Cuisine.
Events to Enjoy
Bad Aibling is not only known for its moor treatments but also for its events. Numerous concerts, performances and exhibitions promise variety all year round. Modern or traditional, pop or classic, caberet or gala concerts - there is something for everyone.