Counties & Cities
>
Upper Bavarian Counties
>
Garmisch-Partenkirchen County
>
Bad Bayersoien
---
Hotels/Accommodation: no business registered - register your business - vicinity search
Food & Beverages: no business registered - register your business - vicinity search
Nightlife/Scene: no business registered - register your business - vicinity search
Shopping & more: no business registered - register your business - vicinity search
---
Bad Bayersoien
Welcome to Bad Bayersoien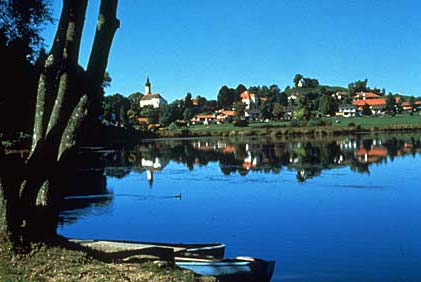 Nestled into a landscape of meadows, woods and softly rolling hills lies the picturesque health and holiday resort Bad Bayersoien on Lake Soier See: a paradise for patients and vacationers alike.
The village's character is rural and idyllic with its pretty farm houses, its baroque church and flower decorated balconies.
At the outskirts of Bad Baiersoien lies the picturesque and dreamy Lake Soier See, a paradise for bathing fans and fishing enthusiasts. It is also starting point for numerous walks through the nature and cure park, around the lake or through the beautiful landscape at the foothills of the Alps: past rapid whitewaters or romantic gorges and always with a view of the Ammergau Mountains.
Many world-famous sights are within easy reach: the baroque Wieskirche, Neuschwanstein and Linderhof Castles or the Ettal Monastery. Oberammergau, site of the "Oberammergau Passion Plays" is also right on the doorsteps.