Counties & Cities
>
Lower Bavarian Counties
>
Passau County
>
Bad Griesbach
---
Hotels/Accommodation: Altstadthotel, Hartl Resort, Hotel Drei Quellen Therme - search more business
Food & Beverages: Restaurant Altstadthotel - search more business
Nightlife/Scene: no business registered - register your business - vicinity search
Shopping & more: no business registered - register your business - vicinity search
---
Bad Griesbach
Welcome to Bad Griesbach

Health, Golf and Indulgence

Live healthily and enjoy - relaxing holidays in the Lower Bavarian Rott Valley. Pleasing atmosphere, golf links in a resort like no other in Europe and many opportunities to treat yourself. Wellness, culture and nature are what makes Bad Grießbach such a popular holiday resort.
The small, charming town which lies 30 kilometers south of Passau is one of the most successful Bavarian health resorts and draws visitors from all over Germany and nearby countries.
The natural healing powers of hot springs and various treatments of Bad Griesbach's physicians and therapists act as a powerful combination against complaints of the musculoskeletal system.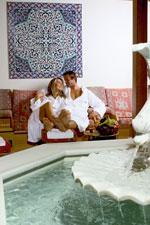 It is the perfect place to recuperate, soothe your body and soul and find your natural balance. You will return from your holiday rejuvenated and relaxed and be able to face the rigours of everyday life with a smile.
The surrounding landscape with its soflty rolling hills, lush green forests and the merrily winding River Rott invites outdoor activists.
Hiking enthusiasts find everything their heart desires: 30 kilometers of hiking paths through the stunning countryside of the Rot Valley. Bad Griesbach also offers the longest linked Nordic walking network in the whole of Germany.
This landscape is home to Europe's Golf Resort number 1. Six 18-hole championship courses, three 9-hole courses, one 6-hole children's course and the Golfodrom®. Unique: 3 courses designed by Bernhard Langer - all at one venue and one club.
Savour Bavarian joy of life and hospitality - join in when Bad Griesbach celebrates: the Spa Festival (Badfest), the Lantern Festival (Lampionfest) on the town square or the Karpfham Festival (Karpfhamer Fest), Bavaria's third largest folk festival. Cultural highlights include the socalled Schlosshoftage. The traditional Balloon meeting is a a feast for the eyes.