Counties & Cities
>
Upper Bavarian Counties
>
Garmisch-Partenkirchen County
>
Bad Kohlgrub
---
Hotels/Accommodation: Hotel Schillingshof, Kur- und Ferienhotel Gertraud, Landhotel Sebaldus, Kur- und Wellnesshotel Waldruh, Haus Sonnwinkel - search more business
Food & Beverages: no business registered - register your business - vicinity search
Nightlife/Scene: no business registered - register your business - vicinity search
Shopping & more: no business registered - register your business - vicinity search
---
Bad Kohlgrub (Bad = Spa)
There is Nothing Bad about Bad Kohlgrub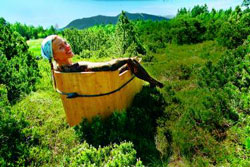 A spa which stands for wellness Bad and Bath
In fact the name has nothing whatsoever to do with bad or good. Bad in German means bath, but not the kind you have such trouble getting the kids to take. In Germany it is a cherished name which can only be bestowed after a community's life-giving natural resources have been proven by government to promote wellness. In Bad Kohlgrub the special treasure is moor.
If your kids are anything like we were at the age, they are attracted to mud. Well, we have a treat for them - and for you: a whole tub of our warm, hygienic mud which relaxes, refreshes, cleans (believe it or not!), restores and rejuvenates body and soul. Rubber duck is optional!
Spa and the moor

Bad Kohlgrub has been a spa since 1872. But the moorlands at the foothills of the majestic Alps which yield the precious restorative mud baths date back more than 8.000 years. Here millions of species of plants have lent their herbal magic.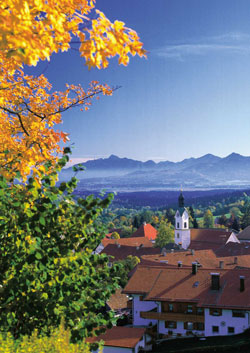 Heritage plays a part not only in Bad Kohlgrub's baths. A visit is also a chance to experience traditional Bavarian culture. The citizens proudly wear their traditional costumes and the year is filled with various and varied festivals, processions and cultural events.
The four seasons
Each season offers its own particular charm in what many have described as our champagne climate. The pristine air and the peaceful surroundings invigorate the soul with a quality that might be described as effervescence. In summer hiking, biking, swimming, tennis and mini-golf are among the favorite activities. Lovers of nature's beauty will enjoy hiking with a local guide. The more adventurous may try a hot-air balloon ride or even hang-gliding.
In winter you are right on the doorstep of a skiers' paradise at an altuitude of 900 meters. A wide range of possibilities awaits you here whether you fancy downhill or cross-country skiing or all other winter sports. A cosy fire and mulled wine are there to warm you up at the end of the day.
Spring and autumn are breathtaking as nature unveils her full palette of colours in flowers, trees, sky and meadows as far as the eye can see - which ist quite far in this clear, country air. What a perfect time for a bicycle or horseback ride.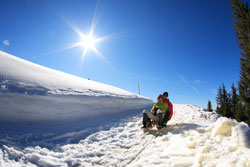 We won't ask you to stay in a prefabricated, high-rise box hotel either. In Bad Kohlgrub you have your choice of dozens of proprietor-run traditional hotels (mostly with fewer than 40 rooms), cosy guesthouses or comfortable bed-and-breakfast accomodation.
More of Bavaria around Bad Kohlgrub
If you can manage to tear yourself away you will be amazed at the variety of things to see within a one-hour's drive. The countryside ist dotted with monasteries like the Benedictine Monastery Ettal and churches such as the famous Wieskirche, a Rococo masterpiece dating back to 1745. Just over the next hill is the world-famous community of Oberammergau where the villagers took a vow in 1633 that they would publicly perform the Passion Play every ten years in thanks to the Creator if they were spared the Plague.
Majestic Alpine mountains such as the Karwendel and Wetterstein massifs are so close that you feel you could almost reach out and touch them. So is the world famous former Olympic site of Garmisch-Partenkirchen at the foot of Germany's highest mountain, the Zugpitze. Take the cable-car or cog-railway to the top and you will have a marvellous view overlooking parts of four countries: Germany, Austria, Italy and Switzerland.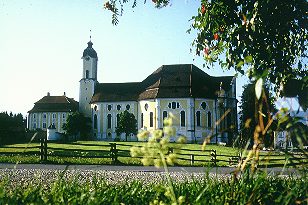 More of Bavaria´s highlights are to be found just a glimpse away.
There are the castles of Linderhof and Neuschwanstein built by Bavaria´s fairy-tale King Ludwig II, patron to composer Richard Wagner.
Art-lovers will enjoy a visit to the town of Murnau, country home of the "Blaue Reiter" (Blue Rider) school of painting exemplified by Wassily Kandinsky (1866 - 1944). Nearby Mittenwald is the town music lovers will associate with the making of violins. At Glentleiten an open-air museum of authentic farmhouses awaits you displaying Bavarian interior and exterior design ranging several past centuries.
And within just about an hour's drive you can even visit Munich, Bavaria's capital city, Austria's famous Mozart town of Salzburg or its winter sports capital Innsbruck.
But don´t get too carried away. You'll find what you're looking for right here in Bad Kohlgrub, a place of relaxation, restoration and beauty - breathing deeply the clear air: a place for coming out of your cocoon, for rebirth.
Taking a course of medical treatment

Chronic conditions are treated not in the confines of a sick room but through fresh air, freedom form stress and natural healing through processes such as mud baths.
Bad Kohlgrub's spa facilities are particularly effective for rheumatic and other joint conditions, back pain, bone problems such as osteoporosis, disorders of the nervous system as well as male and female problems. Discomfort can be significantly reduced and some dysfunctions completely eliminated through carefully monitored application of entirely natural remedies.
Bad Kohlgrub can be easily reached via Munich's new airport and then a short trip on the motorway. Train service is also available.
For complete details, prices and seasonal calendar information please contact:
Tourist office manager
D-82433 Bad Kohlgrub, Germany
Phone international 0049-8845-7422-0, Fax international 0049-8845-7422-44
E-Mail: bad.kohlgrub@gaponline.de