Experience Bavaria
>
Bavaria - The Kids Country
>
Leisure and Adventure Parks
>
Bavaria-Park Reisbach
Bavaria-Park (Bayern-Park) Reisbach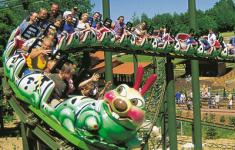 In the South of Lower Bavaria between Dingolfing and Eggenfelden you'll find the Bayern-Park, a 400,000m²-leisure paradise for the whole family. The Bayern-Park is the perfect destination for a memorable day out; with its variety of attractions and entertainment for all ages you won't get bored!
Get an overview on a relaxed ride with the Bayern-Park Express; past the Pferdereitbahn (horses' ride), the Froschbahn (frogs' ride), the Drachenbahn (dragons' ride) and the Wildwasserbahn (white-water ride). The main attraction and most popular ride with young and old is the rollercoaster. Fast-paced fun is also guaranteed in the "Schmetterlingstanz" (Butterfly's dance) and the "wirbelnden Pilze" (swirling mushrooms). Some of the other attractions you'll pass on the tour are the Eselreitbahn (donkey ride), the Schaukelschiff (swinging ship) and the Wellenflieger (wave flyer). Young guests can enjoy themselves on the small train, the water carousel, the Schweinchenbahn (pigs' ride) and the Schildkrötenbahn (turtles' ride). Children especially love the new and absolutely safe climbing wall, "Zugspitzwand".
Of course there are culinary treats for you, as well. Enjoy a nice meal in the Hofstadel and in the relaxing beer garden or get some refreshments from one of the numerous stalls.
Bayern-Park Freizeitparadies GmbH
Reisbach/Ostbayern
Fellbach 1
94419 Reisbach
Telefon: 08734/9298-0
Telefax: 08734/9298-19