Counties & Cities
>
Upper Bavarian Counties
>
Eichstätt County
>
Beilngries
---
Hotels/Accommodation: Landgasthof Euringer - search more business
Food & Beverages: Landgasthof Euringer - search more business
Nightlife/Scene: no business registered - register your business - vicinity search
Shopping & more: no business registered - register your business - vicinity search
---
Beilngries
Welcome to Beilngries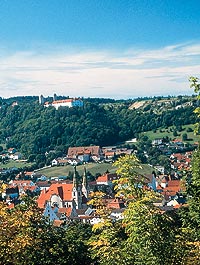 Water has always influenced life in Beilngries. The rivers Sulz and Altmühl meet in the South and the Main-Danube-Canal borders the town in the North. For centuries, the locals have used the water from clear springs to brew the beer that you can enjoy in one of numerous pubs.
Baroque Architecture
Beilngries belonged to the Eichstätt prince-bishopric for a long time. Through this influence, Beilngries has gained some exemplary southern architecture: the baroque town hall and the rococo Church of our Lady. Hirschberg palace, the former residence of the prince-bishop, towers high above the town.
All Kinds of Pleasures
Mediteranian atmosphere takes over during the "Italian Summer" with concerts, street festivals, pasta and wine.