Vacation Regions
>
Upper Bavaria
>
Berchtesgadener Land
>
Highlights

The Highlights of Berchtesgaden and its Surrounding Region
The breathtaking beauty of its nature is the undisputed highlight of the Berchtesgadener Land. However, towns and places such as Bad Reichenhall and Berchtesgaden are amongst our "favorites" as well.
Lake Königssee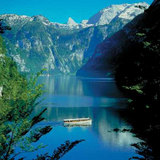 Framed by gigantic rock faces, the emerald green Lake Königssee near Berchtesgaden is the region's main attraction.
The fjord-like lake is 8km long, up to 1250m wide, 190m deep and 602m above sea level.
Lake Königsee covers an area of 5.2 square kilometers between Mount Watzmann, Mount Jenner and the alpine pasture Gotzenalm. The lake was seperated in two parts after the last ice age due to the glacier recession, which formed the idyllic upper part of the lake (Obersee) at the head of the valley.
Royal Palace Berchtesgaden
Summer residence of the Wittelsbach family after 1810, the royal palace Berchtesgaden used to be the center of a small but early established clerical state. Founded in 1102/1105, the diocese was the residence of Prince's provosts until secularization took place in 1803. The entire complex is the result of construction works lasting until the late 18th century. Crown prince Rupprecht of Bavaria and his family lived here from 1922 to 1933 and the castle was furnished with Rupprecht's art collections.
Monastery Höglwörth - Anger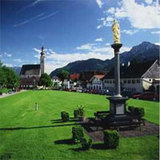 Founded by Salzburg's arch bishop Konrad I in 1125, this former Canons Regular is idyllically located on an island. The ruinous monastery complex including its medieval parts was rebuilt in the 17th century. Due to its poor economic situation, the monastery had to be closed by its last provost in 1817.
Museums in Berchtesgaden
"Dokumentation Obersalzberg" exhibition
Mount Obersalzberg, originally Hitler's holiday home, was extended to house a second seat of governement away from Berlin in 1933. Hence, the exhibition not only shows the history of Mount Obersalzberg, but also combines it with the depiction of National Socialist dictatorship.
Salt mine Berchtesgaden
The salt mine in Berchtesgaden has been running without interruption since 1517. Salt deposits up to 300m below the bottom of the valley have been proven. Salt does not come in pure form here, it is embedded in rocks composed of 50% salt. It is washed out with the aid of fresh water from the mountains.
Old saltworks Bad Reichenhall
Salt museum at the old saltworks. Subterranean working in ramified tunnels, shafts and centuries-old brine pumping stations. An exhibition gives vivid impressions of salt production of the past and present with models, graphics, features and charts.