Counties & Cities
>
Upper Bavarian Counties
>
Rosenheim County
>
Bernau on Lake Chiemsee
Bernau on Lake Chiemsee (Bernau am Chiemsee)
Welcome to Bernau on Lake Chiemsee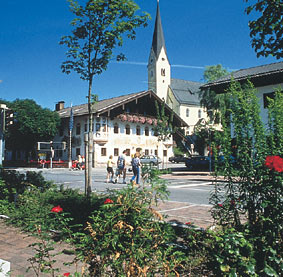 Pure relaxation and recuperation – no matter what the season, amidst nature of almost magical beauty.
Bernau on Lake Chiemsee, the climatic health resort in a uniquely beautiful location between the Chiemgau mountains and the "Bavarian Ocean". Easy to reach via the Munich-Salzburg freeway or by train, it has offed its very personal hospitality to travellers for thousands of years.
Between May and October boats to the islands Herreninsel (with Ludwig II's fairy tale castle) and Fraueninsel (with the 1,200-years old Benedictine monastery) depart from here.
An insider's tip for individualists and romantics is the community of Hittenkirchen, located on a look-out terrace above Lake Chiemsee.