Counties & Cities
>
Allgäu - Bavarian Swabia Counties
>
Upper Allgäu County
>
Bolsterlang
---
Hotels/Accommodation: Gästehaus Bergfrieden - search more business
Food & Beverages: no business registered - register your business - vicinity search
Nightlife/Scene: no business registered - register your business - vicinity search
Shopping & more: no business registered - register your business - vicinity search
---
Bolsterlang
Welcome to Bolsterlang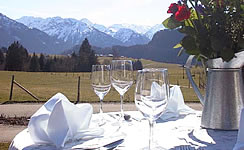 The sunny plateau in Oberallgäu (Upper Allgäu)
Enjoy peace and relaxation. Recharge your batteries for the demands of everyday life.
Bolsterlang - the mountain village
Bolsterlang is a small, friendly mountain village at the heart of the Oberallgäu (950 inhabitants). Only 10 km distant from the renowned skiing resort of Oberstdorf you can enjoy your holiday on Oberallgäu's sunny plateau, away from the crowds and hectic. From most guesthouses you get a fantastic view of the peaks of the Allgäu Alps.
Active vacations
Relaxing in Allgäu has a different meaning from elswhere: Relax by change of activity. Enjoy heavenly peace after a strenuous climb to the "Hörner" mountain range directly behind Bolsterlang. Whether on foot or by bike, there are many possibilities to burn off your energy.

Family ski region on the Hörnerbahn cable car route
Enjoy this fantastic family ski region - for carving, skiing or snowboarding! You don't even need a car to reach the skiing slopes. No accommodation in Bolsterlang or Sonderdorf is further away from the village ski lift than 300 m. 12 skiing slopes of all degrees of difficulty offer all your heart desires.
Hiking on the sunny plateau
The wide variety of the Allgäu is available to you for hiking and trekking. You can face the challenge of steep climbs or simply gather mushrooms from mother nature's bosom. Simple mountain tours like the Hörner panorama tour or gentle walks on the sunny plateau - you can enjoy everything freely - and the finely scented mountain air is there for you to taste.
As yet undiscovered biker's paradise
The locals are not the only ones riding their bikes in this area, but the cycling trails are certainly anything but crowded in this biker's paradise. Mountain bike or racing bike tours, or simple bike rides with the family - it's all there for you to enjoy!
Allgäu hospitality
The Allgäu is known for its hospitality. And in this mountainous region, which is still largely concerned with agriculture, you will find obliging and friendly hosts at every turn. Hörnerdorf has all types of accommodation to offer - from the 5 * hotel through to small and cosy rooms in private accomodations.
Enjoy the typical culinary delights from Allgäu in restaurants and mountain inns.