Counties & Cities
>
Upper Bavarian Counties
>
Rosenheim County
>
Brannenburg
---
Hotels/Accommodation: Berggasthaus Kraxenberger - search more business
Food & Beverages: Berggasthaus Kraxenberger - search more business
Nightlife/Scene: no business registered - register your business - vicinity search
Shopping & more: no business registered - register your business - vicinity search
---
Brannenburg
Welcome to Brannenburg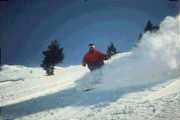 Brannenburg lies at the foot of Mount Wendelstein (1838 m) and has always drawn not only visitors into its lovely surroundings but artists as well. Proof is the artists' colony.
However, Brannenburg is better known for the Wendelstein cog railway station, from which the rail cars climb the mountain from the eastern side. The ride up is worth your while: you do not only get a breathtaking view from there but can also visit the Wendelstein chapel, the Wendelstein cave and the geopark.

Brannenburg offers a wide range of leisure activities: hiking, cycling, riding or gliding - to name but a few. Of course, you can also just relax.