Counties & Cities
>
Upper Bavarian Counties
>
Rosenheim County
>
Breitbrunn
---
Hotels/Accommodation: no business registered - register your business - vicinity search
Food & Beverages: no business registered - register your business - vicinity search
Nightlife/Scene: no business registered - register your business - vicinity search
Shopping & more: no business registered - register your business - vicinity search
---
Breitbrunn on Lake Chiemsee (Breitbrunn am Chiemsee)
Welcome to Breitbrunn on Lake Chiemsee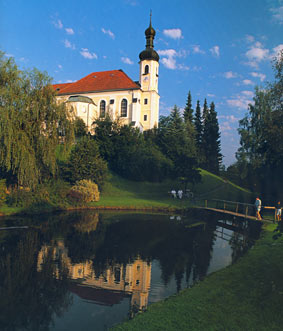 This village is situated south of Lake Chiemsee and northwest of the Upper Bavarian Lake Plateau.
The divers landscape with its softly rolling hills, idyllic coves and densely-wooded surroundings offers many possibilities for activities: hiking, cycling, fishing, sailing, surfing and swimming as well as tennis, horse riding and more. An extended network of cycling trails leads through the entire Chiemgau region. Mountain climbing, rafting or canoeing trips are possible in the nearby Chiemgau Mountains.
There are several golf courses in the vicinity. Numerous village, lake and beach festivals from spring to autumn complete your holiday programm as well as concerts like the "Musiksommer zwischen Inn und Salzach". The landing stage for boats to the Chiemsee Islands (Frauenchiemsee, Herrenchiemsee) is located in the neighbouring village Gstad, just 1.5 kilometers away.