Vacation Regions
>
Upper Bavaria
>
Chiemsee-Alpenland
>
Highlights
>
Chiemsee Islands
Chiemsee Islands
Fraueninsel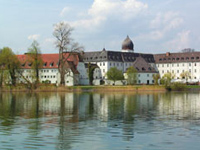 Particularly charming is the Fraueninsel (Ladies Island) on the Chiemsee; a cultural treasure untroubled by traffic noises, it attracts visitors with art and nature. The convent, founded in the eighth century, is still home to benedictine nuns. Theses days, the abbey Frauenwörth is used for adult education and offers various courses and seminars. More information: www.frauenwoerth.de
Two major sights can be seen on the Fraueninsel: the three-nave basilica, whose bulky bell tower is Chiemgau's landmark, and the Carolingian front hall: Frescos from the late Carolingian ages (around 860), the St. Michael's chapel with exhibitions, examples of Carolingian craftsmanship (both originals and copies), as well as the vicar's house hosting annually changing exhibitions (Telephone +49-8054/7256, Opening Hours: fraom pentecost to september, daily 11am-6pm). The romantic fishing village on the Fraueninsel and its gastronomic variety are unique destinations throughout the year. More information: www.chiemsee-inseln.de
Herreninsel

Probably the most famous sight around the Chiemsee is the palace "Schloss Herrenchiemsee". In 1878 King Ludwig II. laid the foundation stone for this palace, which was planned to be built after the plans of Versailles. Due to insufficient funds, however, the construction was terminated far before completion. The palace and its museums can be visited daily, with the exception of 1st January, Mardi Gras, as well as 24th, 25th and 31st December.
New Palace Herrenchiemsee and King Ludwig II. - Museum, Telephone +49-08051-68870 or look it up in the internet: www.herren-chiemsee.de
The walk from the pier to Herrenchiemsee castle (new palace) takes about 15-20 min. The palace's state apartments can only be visited on guided tours (duration about 30 Min.), the King Ludwig II. Museum can be seen without a tour.
Museum in the former convent Augustiner-Chorherrenstift (Old Palace):
Landmarks in German post-war history, Constitutional Convent Herrenchiemsee 1948, gallery of painting by Chiemsee artists

Picture gallery Julius Exter in the northern wing of the former convent Augustiner-Chorherrenstift