Counties & Cities
>
Upper Bavarian Counties
>
Rosenheim County
>
Eggstätt
---
Hotels/Accommodation: no business registered - register your business - vicinity search
Food & Beverages: no business registered - register your business - vicinity search
Nightlife/Scene: no business registered - register your business - vicinity search
Shopping & more: no business registered - register your business - vicinity search
---
Eggstätt
Welcome to Eggstätt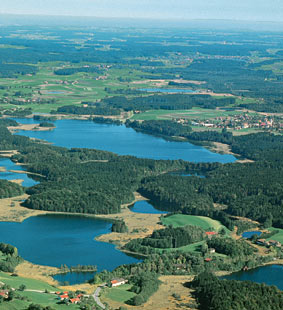 Just 5 kilomesters northwest of Lake Chiemsee lies Eggstätt in one of the largest and oldest Bavarian nature reserves. The last ice age formed this still untouched landscape roughly 20,000 years ago. This unspoilt scenery invites you to hiking, cycling, swimming, rowing, fishing, golfing, tennis or simply to relax, enjoy and get a feel for nature.
Hiking and cycling trails lead through this labyrinth of nearly uncountable lakes. Here, you can breath in unison with nature and spend quality time far away from everyday life and stress.

On lovely foehn wind days, the panorama of the Chiemgau Alps is so clear that you feel you can almost touch it. The Chiemgau mountains can be reached within 20 minutes by car. You can also enjoy the healing powers of mother nature and visit Europe's most potent jodine thermal spring in the nearby Bad Endorf.