Counties & Cities
>
Upper Bavarian Counties
>
Garmisch-Partenkirchen County
>
Eschenlohe
---
Hotels/Accommodation: no business registered - register your business - vicinity search
Food & Beverages: no business registered - register your business - vicinity search
Nightlife/Scene: no business registered - register your business - vicinity search
Shopping & more: no business registered - register your business - vicinity search
---
Eschenlohe
Welcome to Eschenlohe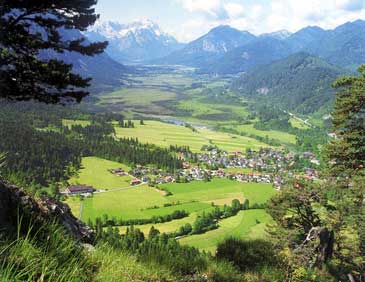 Far from the overcrowded tourist destinations, Eschenlohe is situated in beautiful Loisach Valley, on the historic soil between Ester and Ammer Mountains, guarding the gateway to Zugspitzland and Werdenfels Country.
With its preserved rural charcter, Eschenlohe offers peace and serenity. Surrounded by the greatness of the mountains, this small town lies perfectly embedded in nature, in its quiet corner at the valley's entry.
For all ist calm, Eschenlohe is easy to reach, yet there is no transit traffic disturbing the peace or polluting the air. Everything – from the townscape to the cozy atmosphere and the magical nature – radiates that certain warmth which is the best argument for spending your vacation in Eschenlohe.