Counties & Cities
>
Upper Bavarian Counties
>
Bad Tölz-Wolfratshausen County
>
Eurasburg
---
Hotels/Accommodation: no business registered - register your business - vicinity search
Food & Beverages: no business registered - register your business - vicinity search
Nightlife/Scene: no business registered - register your business - vicinity search
Shopping & more: no business registered - register your business - vicinity search
---
Eurasburg
Welcome to Eurasburg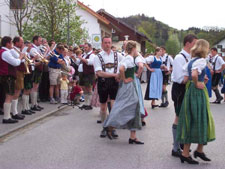 It was probably the lovely location near Lake Starnberger See that induced the first members of the Iringer family to settle down at this place and build the old Iringer Castle in Loisach Valley.
The Iringer estate (after which Eurasburg was named) reached from Herrnhausen to Lake Starnberger See and from Wolfratshausen to the estate of the Benediktbeuren Monastery.
Duke Albrecht VI., a member of the Leuchtenberg family, tore the old castle down. Todays palace was built according to plans of Peter Candid in late renaissance style. In 1976 this castle and its valuable interior burned down. It was restored and turned into flats.