Counties & Cities
>
Upper Bavarian Counties
>
Garmisch-Partenkirchen County
>
Farchant
---
Hotels/Accommodation: no business registered - register your business - vicinity search
Food & Beverages: no business registered - register your business - vicinity search
Nightlife/Scene: no business registered - register your business - vicinity search
Shopping & more: no business registered - register your business - vicinity search
---
Farchant
Welcome to Farchant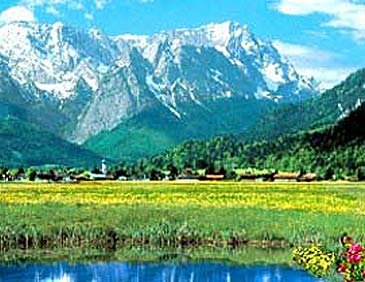 This idyllic community is centrally located in Bavarian "Zugspitzland", amidst magnificent mountains, flower meadows and lakes, at the foot of Germany's highest mountain summit: Zugspitze.
At an altitude of 700 meters, Farchant belongs to the lusciously green Loisach Valley. The impressive summits of Wetterstein, Ester and Ammer Mountains provide a fantastic mountain panorama, while still permitting enough space to feel nature's vastness even down in the valley. Maybe it's that wideness that brings out the cosmopolitan and hospitable nature of the locals.
Be ready to be surprised! Farmers drive their cattle out to the grazing land every morning, and back into the stables at night. In Farchant you don't need to wait for some "folkloric evening" to get in touch with tradition.
Would you like to enjoy the quiet mountains by yourself? Or do you prefer to spent your time in pleasant company when hiking from one mountain lodge to the next? In Farchant you can do either. For your assistance there is a wide range of excellently signposted trails for an unhurried walk as well as for a challenging hiking tour.
The heated outdoor pool of Werdenfels is known far beyond Loisach Valley as a fun destination for the whole family. And for excitement for all your senses, the Forest Experience Path in Farchant is the ideal choice.