Vacation Regions
>
Franconia
>
Franconian Switzerland
>
Highlights

Highlights of Franconian Switzerland
The Romantic Castle Route
Forchheim and Franconian Switzerland are part of Europe's Romantic "Castle Route" which connects 70 castles and palaces between Mannheim and Prague. These are the castles and palaces that you can visit along the way: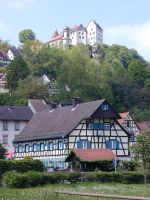 Forchheim, the imperial palace
Ebermannstadt, Ruins
Markt Wiesenttal, the ruins of Neideck and Streitburg
Gößweinstein, Castle
Pottenstein, Castle
Egloffstein, Palace
Waischenfeld, Castle
Palace of Rabenstein in Ahorntal
Aufseß, Palace of Unteraufseß
Heiligenstadt, Palace of Greifenstein
Memmelsdorf, Palace of Seehof
Devil"s Cave of Pottenstein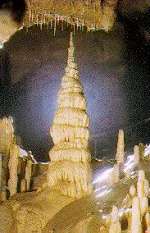 Franconian Switzerland is a typical Karst region, with acid-soluble bedrock such as limestone and dolomite. 1000 smaller and larger caves were formed when carbonic acid - remainders of plants - intruded the limestone fissures. Many of them are rich on dripstones, others offer a large arsenal on fossil bones.
The entrance to Devil's Cave is an impressive grotto, one of the largest in Germany. From the middle of the entrance leaps an eight meters-high offset. Behind that is the actual cave entrance; the interior can be explored during a 45-minute tour.
Particularly impressive is the largest cave hall, the "Barbarossa Cathedral", measuring 45x18x15 meter. On top of that, the cave is covered by a "ceiling" with a thickness of 52 meters. A small town church could easily fit into this hall.
The Levi-Strauss-Museum in Buttenheim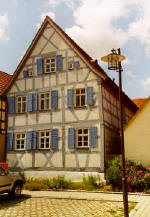 Everybody knows them, everybody wears them - Jeans. The Franconian Löb Strauss made them world famous - and into a cult object. Levi's! Levi, as he called himself later, was born in Buttenheim and emigrated to America. Re-live his life in his renovated birthplace: From being the son of a poor Franconian traveling salesman he went on to head his business in San Francisco. Learn more about the development of the famous pants; from the "waist overalls" of California's gold diggers to the "vintage jeans" collection Katins/Depken. Discover Jeans & Cult through the decades.
Bordering on Regnitztal, Buttenheim - first mentioned in 1017 - is one of the gateway towns of Franconian Switzerland. An ideal staring point for hiking tours around the beautiful surroundings, and for road trips to Bamberg, Forchheim, etc. Sights: The Parish Church of Buttenheim (Michael Küchel), the Palace of Buttenheim, Schießberg Hill with it's look-out tower, the Curia Church of Gunzendorf, Senftenberg Chappel, Wooden Frame - Ensemble and climbing park of Frankendorf.
A Guinness World Record: the World's Highest Density of Breweries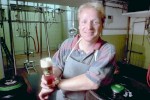 Truly unique is the variety of small breweries. On about 200 sq.km we find 74 brewers. It's just like it is with wine: Every brew tastes a bit different, depending on which brewer uses which kinds of hop and water. These aren't huge breweries. Sometimes the facilities are tiny, made just for the needs of its own pub. And that is why prices (calculated per half-liter beer) are so amazingly low.
The town of Aufseß is - according to the Guinness Book of World Records - the original beer town. Measured by the numbers of residents (1,400) and of breweries (4), the Guinness editors here found the world's highest density of breweries. To live up to its reputation, the town has recently opened the first "Brewery Hiking Trail" of the region. Over the course of 13 kilometers all four breweries are visited by foot. Once this has been done - which of course can be stretched over several days - each visitor receives a certificate proving his commitment. For information and details on the route, call the tourist information in Hollfeld: +49 (2974) 9800

By the way: There is a society called "Bierland Oberfranken", committed to promote this "Beer Paradise" and its highest density of breweries around the world.
More Information: http://www.bierland-oberfranken.de