Counties & Cities
>
Upper Bavarian Counties
>
Rosenheim County
>
Frasdorf
---
Hotels/Accommodation: Pension Kampenwand - search more business
Food & Beverages: no business registered - register your business - vicinity search
Nightlife/Scene: no business registered - register your business - vicinity search
Shopping & more: no business registered - register your business - vicinity search
---
Frasdorf
Welcome to Frasdorf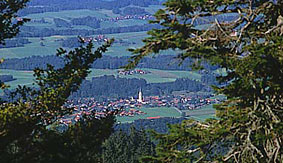 The village lies at the foothills of the Chiemgau mountains, approximately 8 kilometers away from the Lakes Chiemsee and Simssee respectively, nestled into softly rolling hills and centrally located between Munich and Salzburg.

Frasdorf is a charming place whatever the season. Families, senior citizens and active people alike will find it worth a visit. Hochries, Kampenwand, Samerberg and Prien Valley are nearby and offer challenging hikes and climbs as well as easy walks.
There are several trails for extended cycling tours as well as numerous forestry tracks for mountain bikers. Nearby lakes and the outdoor pool in idyllic surroundings are a welcome change in the summer heat.