Counties & Cities
>
Upper Bavarian Counties
>
Pfaffenhofen on River Ilm County
>
Geisenfeld
---
Hotels/Accommodation: no business registered - register your business - vicinity search
Food & Beverages: no business registered - register your business - vicinity search
Nightlife/Scene: no business registered - register your business - vicinity search
Shopping & more: no business registered - register your business - vicinity search
---
Geisenfeld
Welcome to Geisenfeld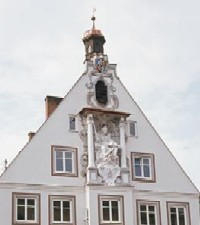 Geisenfeld with its localities Engelbrechtsmünster, Gaden, Geisenfeldwinden, Ilmendorf, Nötting, Parleiten, Rottenegg, Schillwitzried, Untermettenbach, Unterpindhart and Zell encloses an area of approximately 88km and is home to 9700 inhabitants.
The town's landmarks are the majestic parish church, the former abbey wing and the old town hall from 1626 with its remarkable facade. The foundation of a benedictine convent by count Graf Eberhard II of Sempt and Ebersberg and his wife Adelheid in 1030 was of great importance for Geisenfeld's cultural, religious and economic development.
Geisenfeld Abby which once was one of the largest and richest convents in Bavaria was desolved in the course of the secularisation.
The old town hall houses the Hallertauer Hofen- and Heimatmuseum (Hallertau hops and local history museum).
There are manifold opportunities for sports and activity: cycling, hiking, bathing/swimming in the Ilm Valley, Feilenforst and Feilenmoos.