Counties & Cities
>
Upper Bavarian Counties
>
Pfaffenhofen on River Ilm County
>
Gerolsbach
---
Hotels/Accommodation: no business registered - register your business - vicinity search
Food & Beverages: no business registered - register your business - vicinity search
Nightlife/Scene: no business registered - register your business - vicinity search
Shopping & more: no business registered - register your business - vicinity search
---
Gerolsbach
Welcome to Gerolsbach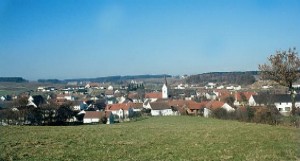 Gerolsbach and its surroundings with the localities Alberzell, Klenau, Junkenhofen, Singenbach und Strobenried have kept their rural character. 77 small villages and hamlet are scattered on 59 km² of charming hilly landscape.
The community was named after a priest called Gerolt, who presided over the original parish from 783 to 811. During Carolingian times "Keroltispach" or "Keroltesdorf" was an extended nobility seat with manor-houses and village church. Most farming estates were documented in writing very early on.
There are great possibilities for cycling and hiking as well as horse riding and golfing.