Counties & Cities
>
Upper Bavarian Counties
>
Rosenheim County
>
Halfing
---
Hotels/Accommodation: no business registered - register your business - vicinity search
Food & Beverages: no business registered - register your business - vicinity search
Nightlife/Scene: no business registered - register your business - vicinity search
Shopping & more: no business registered - register your business - vicinity search
---
Halfing
Welcome to Halfing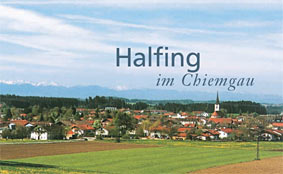 Halfing is a familiy friendly and inexpensive holiday village which is situated close to the larger cultural and tourist centers of the Chiemgau region. The charming, well-wooded landscape at the foothills of the Alps with its softly rolling hills, moorlands and lakes offers relaxing holidays at any time of the year.
In recent years, the village has become well-known due to the internationally renowned opera festival at Gut Immling which was initiated by opera singer Ludwig Baumann in 1997.
The health resort Bad Endorf is only 5 kilometers away. Its main focus is on treatments with iodine thermal brine and moor.
General information on Halfing:
approximately 2500 inhabitants
502 meters above sea level
approximately 190 beds
nature reserve Halfinger Moos (moorland)
nature reserve Urschlag
Sport: opportunities to swim in
Lake Chiemsee
and in the lakes of the Chiemgau Lake Plateau, tennis, horse riding, golfing, cycling and more.
Gastronomy: hotel, country inn, agrotourism, vacation homes and privat accomodation.