Counties & Cities
>
Upper Bavarian Counties
>
Eichstätt County
>
Kipfenberg
---
Hotels/Accommodation: no business registered - register your business - vicinity search
Food & Beverages: no business registered - register your business - vicinity search
Nightlife/Scene: no business registered - register your business - vicinity search
Shopping & more: no business registered - register your business - vicinity search
---
Kipfenberg
Welcome to Kipfenberg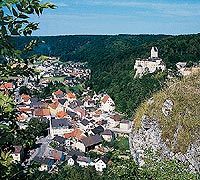 Holiday resort with history
The Celts, the Romans, the Alemanni and Baiuvarii - they were all here. Maybe due to Kipfenberg's central location: it is the geographical center of Bavaria and as such the ideal starting point to explore the Nature Park Altmühltal: on bike, on foot or with a boat.
Experience tradition
History is still alive in this village that was first mentioned in 1266: the Limes festival remembers the Roman past as well as the medieval lords of the castle. During Mardi Gras the socalled "Fasenickl" drive the winter away.
Quiet nature
Kipfenberg with its alleys and corners lies in the shelter of the castle that towers over the village. Here you can relax. You can still find natural peace and quiet, for example hiking through the Schambach valley or boating on the River Altmühl.