Counties & Cities
>
Upper Bavarian Counties
>
Bad Tölz-Wolfratshausen County
>
Kochel am See
---
Hotels/Accommodation: no business registered - register your business - vicinity search
Food & Beverages: no business registered - register your business - vicinity search
Nightlife/Scene: no business registered - register your business - vicinity search
Shopping & more: no business registered - register your business - vicinity search
---
Welcome to Kochel am See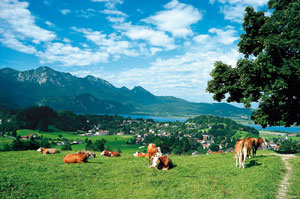 Lake Kochel is perfectly located at the foothills of the Alps – only 60 kilometers south of Munich. Enjoy the fresh, gentle mountain climate, and the natural setting: Green meadows, woods, moors, and commanding mountains.
Franz Marc, one of Germany's most significant expressionist painters, was one of many to find inspiration in this picturesque landscape. Fairy Tale King Ludwig II was also charmed by this region which prompted him to have a cottage build on Herzogstand, his favorite mountain. The summit with its breathtaking view can be easily reached by cable car.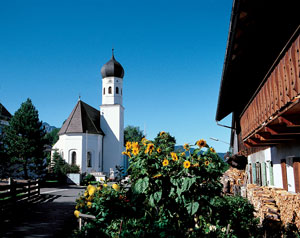 Kochel am See, with its traditional, flower-decorated houses, is an ideal destination for families and vacationers looking for activities, nature, recreation, or culture:
You'll find level roads for cycling and walking, enjoyable hiking trails, challenging climbing routes, and racy mountain bike tracks.
It's also the right place for water lovers: there are well-preserved natural shores, opportunities to fish, dive, and surf, or to go on a boat trip.
Customs and traditions are still alive in this area. Enjoy Bavarian food at one of the cozy pubs and take part in the traditional processions and festivities.
Cream of the Crop:
1. Family and Adventure Bath "trimini"
2. Mount Herzogstand cable car
3. Power Plant Walchensee (incl. Information center)
4. Open-Air Farming Museum "Glentleiten"
5. Franz Marc Museum