Counties & Cities
>
Upper Bavarian Counties
>
Garmisch-Partenkirchen County
>
Krün
---
Hotels/Accommodation: Ferienwohnung Hannes Holzer - search more business
Food & Beverages: no business registered - register your business - vicinity search
Nightlife/Scene: no business registered - register your business - vicinity search
Shopping & more: no business registered - register your business - vicinity search
---
Krün
Welcome to Krün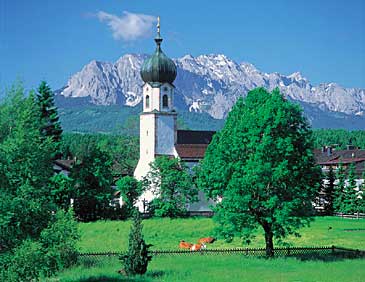 You'd like to experience Bavaria and mountains, tradition and modern life, sport, fun and relaxation as well as conviviality and lovely alpine landscape? It's all there for you in Krün!
Krün offers something for everyone whether you come for a short or longer stay, with your family, partner or alone. It is one of the most popular sommer and winter holiday resorts in Upper Bavaria.
This attractive village is framed by the Wetterstein mountain range with Germany's highest mountain "Zugspitze", the Karwendel and Ester mountain range.
Rural charm and character still shape this place with its typical Upper Bavarian houses and its small baroque church in the village center. There are accomodations for every taste and price.