"Isarwinkel" is one of the most traditional regions of Upper Bavaria, located 60 kilometers south of Munich. Situated between Tegernsee and Walchensee, it is also known as the Gateway to Karwendel Mountain. Its "capital" is Lenggries, a climatic health resort town.
Located at an altitude of 680 meters, Lenggries has always been an ideal vacation destination for all ages. In summer, visitors are inspired by the wonderful cycling and hiking trails and the idyllic beaches around Lake Sylvenstein. In June 2007, the first and largest Nordic Walking Course of the Bavarian Alps opened its doors. Lenggries has a lot to offer: Bavarian tradition, hospitality and good and hearty food.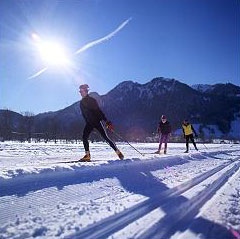 In winter, Ski Resort Brauneck is a popular destination with families, due to its cozy mountain lodges and its affordable Alpine ski runs. Many German stars of Alpine Skiing took their first steps here: Hilde and Annemarie Gerg, Martina Ertl, and Florian Eckert. Lenggries is also an Eldorado for cross-country skiers, with ski runs of a combined length of 120 kilometers. After the exhausting action, you can relax at the water park Isarwelle.
Other attractions include the museum of local history, the limekiln, the animal museum, Hohenburg Palace, and the Baroque-style parish church St. Jacob. Lenggries also has a tradition of timber rafting. In the 14th century, rafting was the quickest method of transportation between Lenggries and towns and cities such as Bad Tölz, Munich, Vienna, or Budapest. Not only people were carried by this means of transport but goods like limestone, wood, and coal as well.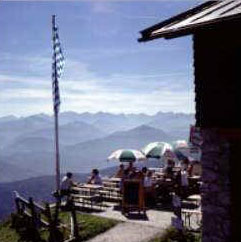 Today, Lenggries is a modern tourist town amidst magnificent mountainscape.
The panoramic view from Brauneck Mountains extends from the Rosenheim Mountains all the way to the Karwendel Mountains and Germany's highest mountain, Zugspitze. Here you can find peace and quiet, but just as well various sports opportunities. Lenggries is worth a trip all year round.
Accommodation is affordable and varies from flower-decorated farms, private rooms, B&Bs, inns and hotels to apartments.