Counties & Cities
>
Upper Bavarian Counties
>
Garmisch-Partenkirchen County
>
Mittenwald
---
Hotels/Accommodation: Bäckeralm Gästehaus und Hotel Garni - search more business
Food & Beverages: Bäckeralm Gästehaus und Hotel Garni - search more business
Nightlife/Scene: no business registered - register your business - vicinity search
Shopping & more: no business registered - register your business - vicinity search
---
Mittenwald
Welcome to Mittenwald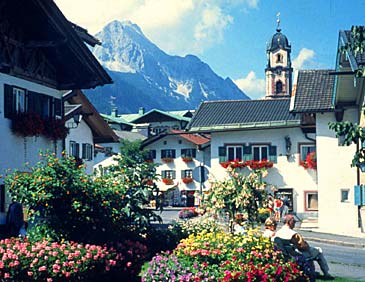 Apart from its worldwide reputation as center of violin and instrument making, Mittenwald with its picturesque and traffic-calmed zones is an eventful place.
Colourful gardens, elaborate frescoe paintings, historic buildings present Upper Bavaria from its brightest side. Elegant shops and cafès are smoothly and skillful intregrated into the historic surrounding.
The newly designed and reopened Violin Making Museum with its outstanding collection of instruments is fascinating place.
Get to know the variety of possibilities for walking and hiking in and around Mittenwald, the Karwendel cable car and the Kranzberg-chairlift. A special adventure is the new Leutasch gorge.