Counties & Cities
>
Allgäu - Bavarian Swabia Counties
>
Donau-Ries County
>
Monheim
---
Hotels/Accommodation: no business registered - register your business - vicinity search
Food & Beverages: no business registered - register your business - vicinity search
Nightlife/Scene: no business registered - register your business - vicinity search
Shopping & more: no business registered - register your business - vicinity search
---
Monheim
Welcome to Monheim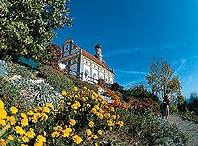 The recreational area of the Monheimer Alb, a gently rolling high plateau rich in mixed forests and located in the Nature Park Altmühltal (Altmuehel Valley), is a part of the South Franconian Jura Mountains.
The area is bounded by the Danube in the south, the Woernitz and the Rieskessel (Ries Caldera) in the west, the river Altmuehl in the north and the Wellheimer Trockental (Wellheim Dry Valley) in the east.
In the Monheimer Alb you can still find the triad of untouched, rural countryside, of 1200-years-old culture and of friendly hospitality. The centre of this recreational area is the city of Monheim.