Counties & Cities
>
Upper Bavarian Counties
>
Garmisch-Partenkirchen County
>
Oberammergau
---
Hotels/Accommodation: no business registered - register your business - vicinity search
Food & Beverages: no business registered - register your business - vicinity search
Nightlife/Scene: no business registered - register your business - vicinity search
Shopping & more: no business registered - register your business - vicinity search
---
Oberammergau
Welcome to Oberammergau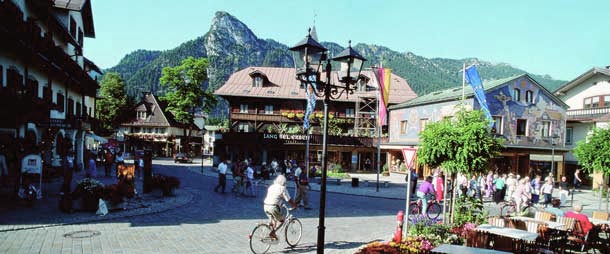 Oberammergau, the small holiday village in the Upper Bavarian Ammertal Valley, is world-famous. This reputation is maily due to Oberammergau's passion play which was first performed in 1634 and has been staged every ten years ever since.
You can explore the magnificent landscape on over 100 kilometers of hiking and cycling trails. If you want to get even higher that that, you can climb (or take the cable car) up the Kolben (1276 m) or Laber (1683 m) mountain. From there you have a fantastic view onto the fairytale King-Ludwig-Country: Linderhof Castle in Graswang Valley and Neuschwanstein Castle near Füssen seem to be within grasp. After the effort of hiking, climbing or cycling, the adventure pool "WellenBerg" attracts with refreshing water.
Pretty fresco paintings catch the visitor's eye when strolling through the village. These colourful facade paintings, which were applied with an old fresco technique from the 18th century, characterize the whole village. If you want to learn more about these traditional handicrafts, you can do so in the Oberammergau museum.
Oberammergau is also a popular winter sports resort. Over 50 kilometers of cross-country ski-tracks lead through the lovely Ammertal Valley. There are ski runs from beginners to advanced level on the Kolben and Laber mountains.
To get an impression of Oberammergau, view the official Oberammergau Video