Counties & Cities
>
Allgäu - Bavarian Swabia Counties
>
Upper Allgäu County
>
Ofterschwang
---
Hotels/Accommodation: no business registered - register your business - vicinity search
Food & Beverages: no business registered - register your business - vicinity search
Nightlife/Scene: no business registered - register your business - vicinity search
Shopping & more: no business registered - register your business - vicinity search
---
Ofterschwang
Welcome to Ofterschwang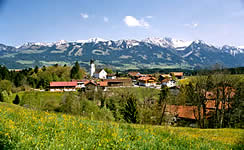 How to get there
By car: A 7, B 19; Nearest railway station: Sonthofen; Bus access
Sports and Nature
The natural beauty of the untouched Tiefenberg moor with hiking paths, 18-hole golf course, riding school, ski lifts and prepared cross-country ski tracks.
Health and Recuperation
Peat-based and Kneipp cures, massage baths, massage, sauna, solarium, reflex zone massage, autogenic training, meditation.
Culture and Tradition
The culture and traditions which have been passed down from generation to generation in this area have been preserved to a very large extent and are still respected today.
Tourists' Specials
Widely-branching network of hiking paths, sightseeing tours and sleigh rides.