Counties & Cities
>
Upper Bavarian Counties
>
Rosenheim County
>
Riedering
---
Hotels/Accommodation: no business registered - register your business - vicinity search
Food & Beverages: no business registered - register your business - vicinity search
Nightlife/Scene: no business registered - register your business - vicinity search
Shopping & more: no business registered - register your business - vicinity search
---
Riedering
Welcome to Riedering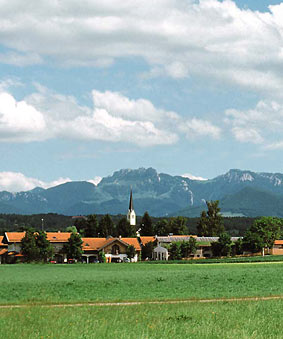 This holiday resort is situated southeast of Rosenheim near Lake Simsee. Lake Simsee and the smaller Lake Tinninger See lie within unspoilt landscape and their water quality is brilliant.
The community tries to do everything in its power to keep the environment intact and to aid gentle tourism. In 1993, the southern bank of Lake Simsee was declared a nature reserve. A well-kept network of hiking and cycling trails leads through this area with its rich world of rare plants and animals.
Comfortable pubs with romantic beer gardens invite to a rest.
Other places of interest in Chiemgau or the neighboring Tyrol in Austria are within easy reach.