Counties & Cities
>
Upper Bavarian Counties
>
Garmisch-Partenkirchen County
>
Riegsee
---
Hotels/Accommodation: no business registered - register your business - vicinity search
Food & Beverages: no business registered - register your business - vicinity search
Nightlife/Scene: no business registered - register your business - vicinity search
Shopping & more: no business registered - register your business - vicinity search
---
Riegsee
Welcome to Riegsee
Where Upper Bavaria remains the way it has always been!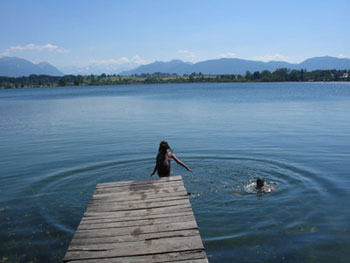 The Riegsee municipality includes the villages Riegsee, Aidling, and Hagen, as well as the hamlets of Leibersberg, Höhlmühle, Lothdorf, Guglhör, Perlach, and Mühlhagen.
Each one of these places has its own charm and unique advantages.
The vacation region around Lakes Riegsee and Staffelsee are part of Garmisch-Partenkirchen County.
The mountains are not right on the doorsteps – instead they are just distant enough for you to enjoy a glorious panoramic view: From the Benediktenwand in the East to Herzogstand and Heimgarten, Estergebirge and Wettersteingebirge (incl. Zugspitze), all the way to the Ammergau Mountains.
And yet those mountains are close enough to be easily reached by bike. Well-marked hiking and cycling paths lead through fields and forests, around Lake Riegsee to nearby villages and wonderful lookout points.
Impressions: