Counties & Cities
>
Upper Bavarian Counties
>
Rosenheim County
>
Rimsting
---
Hotels/Accommodation: no business registered - register your business - vicinity search
Food & Beverages: no business registered - register your business - vicinity search
Nightlife/Scene: no business registered - register your business - vicinity search
Shopping & more: no business registered - register your business - vicinity search
---
Rimsting
Welcome to Rimsting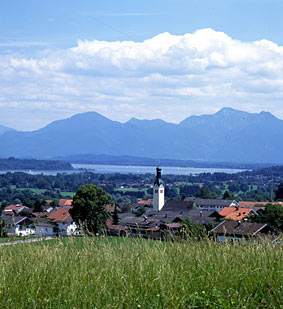 The climatic health resort is charmingly situated above the western shore of Lake Chiemsee and its district Grimharting is nestled into the landscape at the foot of "Ratzinger Höhe".
Surrounded by hamlets and farms, both places are typically Bavarian with their rural and quiet character. Small picturesque communities and hamlets nestled into hillsides, farms fringed by meadows, fields and wooded hights: an ideal holiday area.
The "Ratzinger Höhe" (694 m) towers above both villages. From there you can overlook Lake Chiemsee with its mountain scenery. It is a well signposted and varied hiking area. Particularly well known is the "Fruit and Culture Hiking Trail" (Obst- und Kulturwanderweg).
Due to its situation on Lake Chiemsee, Rimsting offers many opportunities for water sports (beach with kiosk and paddleboat rental). Bavarias oldest nature reserve with its 17 lakes is closeby. There is an adventure pool - "Prienavera" - in the nearby town of Prien, and health conscious guests pay a visit to Europe's strongest jodine themal spings in Bad Endorf. The area is also a hiker's paradise with the Chiemgau Alps only a 15 minutes' drive away.
Traditional events and village festivities play an important role all year round, like the Leonhardiritt in Greimharting which has taken place every November for centuries. A boat trip to "Herrenchiemsee Island" (with its Herrenchiemsee Palace) or to the fisher's island "Frauenchiemsee Island" with its convent is possible all year round.