Counties & Cities
>
Middle Franconian Counties
>
Ansbach County
>
Rothenburg ob der Tauber
---
Hotels/Accommodation: Hotel Hornburg Garni, Hotel Altes Brauhaus, Gasthof Linden, Gasthof zum Ochsen, Hotel-Gasthof Schwarzes Lamm - search more business
Food & Beverages: Hotel und Gasthof zur Sonne - search more business
Nightlife/Scene: no business registered - register your business - vicinity search
Shopping & more: no business registered - register your business - vicinity search
---
Rothenburg ob der Tauber
Welcome to Rothenburg ob der Tauber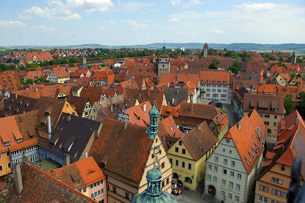 "A journey through the Tauber Valley is a journey through German history", wrote Wilhelm Heinrich Riehl in an essay that was published in 1865. He described Rothenburg as an art and cultural monument of the first order; the well-know art historian Dehio also called Rothenburg a synthesis of the arts.
This way the beauty of Rothenburg and its surroundings got well-known and famous; tourism became an important economic factor early on.
Rothenburg casts a spell on visitors interested in art and architecture with its complete medieval townscape high above the Tauber Valley as well as its rich changeful history.
Three historical associations which pledge themselves to old traditions have particular charisma: "Der Meistertrunk", "Schäfertanz" and "Hans-Sachs-Spiele". Ever since the imperial town's anniversary in 1974, history clubs have joined in to keep alive important epochs of history.
Sights that are of major interest are the gothic St. James's (St. Jakob) church with Tilman Riemenschneider's Heilig-Blut-Altar, the town hall, the former Benedictine monastery and the old castle complex of the Staufen emperors.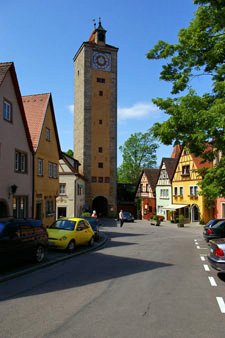 The town counts more than 400 000 overnight stays in just under 3000 beds and more the two million day visitors. No other Franconian town gets visitors as international as Rothenburg's. There is hardly an American or Japanese who fails to visit this medieval gem on his or her travels through Europe.
Industry and trade are other important economic factors of the town. Germany's largest manufacturer of home appliances produces here and the new technologies are present as well. This is what makes for the towns charm: a lively symbiosis of history carved into stone and modern life.