Counties & Cities
>
Upper Bavarian Counties
>
Garmisch-Partenkirchen County
>
Schwaigen
---
Hotels/Accommodation: no business registered - register your business - vicinity search
Food & Beverages: no business registered - register your business - vicinity search
Nightlife/Scene: no business registered - register your business - vicinity search
Shopping & more: no business registered - register your business - vicinity search
---
Schwaigen-Grafenaschau
Welcome to Schwaigen-Grafenaschau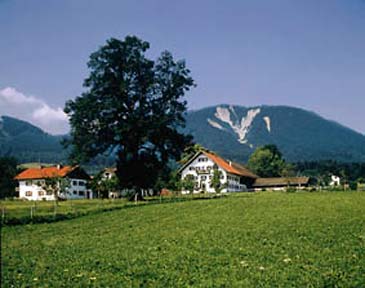 The smallest community of the Blue Country (Blaues Land) is situated at the foot of the Hörnle mountain (1548m) and by the nature reserve Murnauer Moos (Murnau moorland): a real insider's tip for vacations without the noise and stress of daily life.
Away from streets and without transit traffic, Grafenaschau is an ideal starting point for hikes and cycling tours. The nature reserve Murnauer Moos with its rare plants and anmials is the largest intact moorland in the Alps.
A great view opens from Hörnle mountain: onto the Garmisch mountains and over the lake plateau at the foothills of the Alps.