Counties & Cities
>
Upper Bavarian Counties
>
Garmisch-Partenkirchen County
>
Seehausen
---
Hotels/Accommodation: no business registered - register your business - vicinity search
Food & Beverages: no business registered - register your business - vicinity search
Nightlife/Scene: no business registered - register your business - vicinity search
Shopping & more: no business registered - register your business - vicinity search
---
Seehausen
Welcome to Seehausen
Seehausen at Lake Staffelsee – the fishing village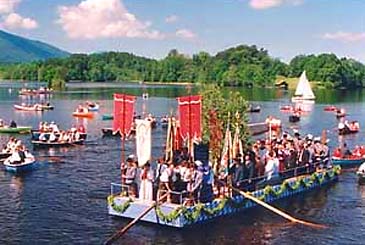 The old, romantic fishing village Seehausen at Lake Staffelsee lies amidst the beautiful lakes and bogs at the foothills of the Alps. The village is shaped by old, neat farmhouses still ornamented with mural paintings, and, of course, by Lake Staffelsee, one of Bavaria's warmest lakes.
Relax and enjoy yourself at Lake Staffelsee with its seven islands, its peaty, therapeutic water, and its beautiful surroundings in fantastic nature and Upper Bavaria's greatest sights.
Seehausen in part of the magnificent landscape of the Alpine foothills; it is also one of the few tourism villages with a lake within its area. Find out for yourself what it means to vacation in Seehausen:
There are many options to be active: The near mountains attract alpinists, Lake Staffelsee delights swimmers, hobby fishers, and water sports lovers; its surroundings are perfect for hikers and nature enthusiasts.
While you're here, visit the Archaeology Park on Wörth Island, with the chapel and finds of a monastery from the early Middle Ages; also interesting is the museum of local history on fishing and the traditional art of reverse glass painting ("Hinterglasmalerei").
And even though Seehausen isn't specifically a place of winter sports, a visit during the season is still rewarded with the serenity of the winter landscape and the frozen lake.