Counties & Cities
>
Allgäu - Bavarian Swabia Counties
>
Upper Allgäu County
>
Sonthofen
---
Hotels/Accommodation: no business registered - register your business - vicinity search
Food & Beverages: no business registered - register your business - vicinity search
Nightlife/Scene: no business registered - register your business - vicinity search
Shopping & more: no business registered - register your business - vicinity search
---
Sonthofen
Welcome to Sonthofen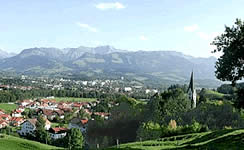 How to get there

By car: A 7 or B 12 to Kempten then on to B 19, B 308 (Deutsche Alpenstraße); Railway: in town; Bus access
Sports and Nature
Starzlachklamm (Starzlach gorge), water nature trail on the Iller, "Ecological spa gardens", fitness trail, ice stadium, outdoor and indoor pools, bathing lakes, minigolf course, tennis, squash, balloon rides, Kneipp therapy facilities.
Culture and Tradition
Local history museum with constantly-changing special exhibitions, plays, concerts, Nikolaus balloons every 2nd Sunday in December, Egga games (every 3 years), historic mountain troops collection, folk music evenings.
Specially for tourists
Horse carriage rides, torchlit walks, ecology-based hikes, guided canoeing and mountain bike tours, craft afternoons, concerts, brewery visits, winter camp site, low-cost package deals, Sonthofer economy weeks, holiday destination railway station with car-on-train depot, reading room.