Vacation Regions
>
Upper Bavaria
>
Tölzer Land
>
Highlights

Highlights of the Tölzer Land Region
Bad Tölz & the Alpamare indoor water park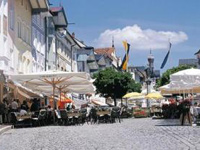 Bad Tölz's edifice ensemble "Historische Marktstraße" ("historic market street") is arguably the town's most memorable monument.
The wealth of the former settlement reflects itself in the magnificent buildings along the main road and the extension of the market street, a former salt road.
The street's present facades were designed by the Munich architect Gabriel von Seidl, who adjusted, restored and partly renovated the row of houses around 1900. His work can be seen best in the redesign of the gables of the town's citizen center as well as the renovation of the Marienstift monastery.
The market street is also site of the Winzerer Monument in remembrance of those who perished in the war of 1870/71, which depicts the glorious deeds of Kaspar Winzerer, the "Golden Knight" and burgrave of Tölz.
Healthy Climate
Bad Tölz has been a certified health spa since 1969. The city is located at 650 meters a.s.l. at the north side of the Alps, which is the climatic boundary of Middle Europe.
Iodine

Iodine springs at the bottom of mount Blomberg are the spa town's oldest remedy and have contributed to the international fame of Bad Tölz.
Forms of iodine treatment include drinking cures, spa therapies, inhalations and iodine eye treatment. The healing e
ffect of Tölz's natural iodine is enhanced by trace elements and mineral compounds administered in small amounts.
Alpamare - Fun & Action, Excitement & Relaxation
A visit to the Alpamare water park is a joyful experience for old and young. Have fun on the newest and most ultimate water slides, a highlight even grown-ups shouldn't miss. Or how about a ride in Germany's first indoor surfing facility? Have a break and relax. Take a break from daily life at the wellness park and relax under a tree in one of the deck chairs in the park.
Raft Rides on the River Isar

A raft ride to Munich with traditional Bavarian musical accompaniment on the River Isar is a must-do in summer. Catering, i.e. beer from a wooden barrell, is provided. To guarantee a safe swim, however, you should go easy on alcohol in the summer heat.
Early reservations are highly recommended. For more informations or reservations contact us: info@guide-to-bavaria.com