Counties & Cities
>
Upper Bavarian Counties
>
Garmisch-Partenkirchen County
>
Uffing on Lake Staffelsee
---
Hotels/Accommodation: no business registered - register your business - vicinity search
Food & Beverages: no business registered - register your business - vicinity search
Nightlife/Scene: no business registered - register your business - vicinity search
Shopping & more: no business registered - register your business - vicinity search
---
Uffing on Lake Staffelsee (Uffing am Staffelsee)
Welcome to Uffing on Lake Staffelsee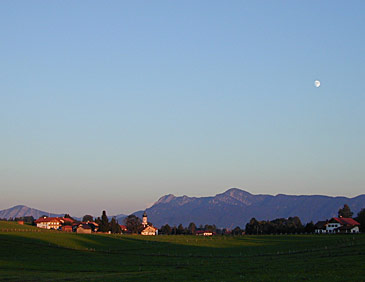 Pure nature, pure culture.
The community Uffing on Lake Staffelsee is located in one of Bavaria's most beautiful natural surroundings, between the near-by Ammer and Ester Mountains, Lake Staffelsee in the South, and Pfaffenwinkel (Parson's Corner) in the North.
Extensive hiking and cycling trails through farmlands, and the warm Lake Staffelsee offer many different recreational options; to end the day on a perfect note, the shady beer gardens of local pubs are the place to be.
Visitors can expect interesting events all year round: Lake Festivals, Folkloric Evenings, as well as guided historical tours to villages, churches, and into the mountains.
The train station "Uffing am Staffelsee" is ideally located on the main route Munich – Garmisch-Patenkirchen, thus being an excellent base for day-trips around the country: Bikes can be taken along with no extra charge in local traffic trains (or can be rented at the local tourist information).