Counties & Cities
>
Upper Bavarian Counties
>
Pfaffenhofen on River Ilm County
>
Vohburg on River Danube
---
Hotels/Accommodation: no business registered - register your business - vicinity search
Food & Beverages: no business registered - register your business - vicinity search
Nightlife/Scene: no business registered - register your business - vicinity search
Shopping & more: no business registered - register your business - vicinity search
---
Vohburg on River Danube (Vohburg an der Donau)
Welcome to Vohburg on River Danube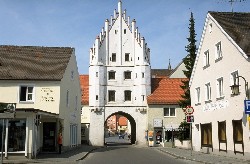 Vohburg is without doubt one of the most important historic places in Pfaffenhofen County. Finds on Burgberg (Castle hill) are evidence of a settlement as early as 1500 BC. It was first documented in writing in Carolingian times (after 895) and from 911 till 1081 the Counts of Vohburg resided here.
The castle changed hands several times. Duke Albrecht III. lived here from 1431 to 1435 with his beautiful and tragic wife Agnes Bernauer, a barber's daughter who was drowned by Albrecht's father's (Duke Ernst) command. After the castle's destruction by the Swedes in 1641, Vohburgs glamour faded.
Historical buildings still bear witness of these times, particularly the dominant Burgberg with St. Peter's church and the castle wall but also the town gates and several preserved buildings in the old town center.
Today Vohburg and its surroundings are characterized by an oil refinery and a power station and are thus an important industrial location.
Vohburg presents a wide variety of recreational offerings: the rivers Danube, little Danube, Ilm and Paar as well as several ponds invite to fish. Extended walks and cycling tours are possible on the Danube embankment, in the floodplain forests and on a wide network of dirt tracks and woodland paths. The international Danube Trail leads through Vohburg.