Counties & Cities
>
Allgäu - Bavarian Swabia Counties
>
Upper Allgäu County
>
Wertach
---
Hotels/Accommodation: no business registered - register your business - vicinity search
Food & Beverages: no business registered - register your business - vicinity search
Nightlife/Scene: no business registered - register your business - vicinity search
Shopping & more: no business registered - register your business - vicinity search
---
Wertach
Welcome to Wertach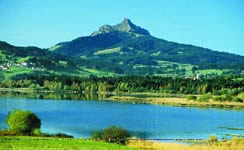 How to get there
By car: A 7; Nearest railway station: Oy-Mittelberg; Bus access
Sports and Nature
Extensive landscape at the foothills of the Alps, dust-free air with little mist and fog. A large proportion of the landscape is a nature reserve; 80 km hiking paths, water sports and fishing on the Grüntensee lake, solar heated sports pool, drag lifts and 25 km cross-country ski tracks.
Health and Recuperation
Health cure doctors and medical bathing facilities, stimulating climate at the foothills of the Alps.
Culture and Tradition
Local history museum; traditional customs and events, concerts, cattle drive.
Tourists' Specials
Cheese seminars, alpine and cross-country ski courses, camp sites, central location for visiting places of interest