Counties & Cities
>
Upper Bavarian Counties
>
Pfaffenhofen on River Ilm County
>
Wolnzach
---
Hotels/Accommodation: no business registered - register your business - vicinity search
Food & Beverages: no business registered - register your business - vicinity search
Nightlife/Scene: no business registered - register your business - vicinity search
Shopping & more: no business registered - register your business - vicinity search
---
Wolnzach
Welcome to Wolnzach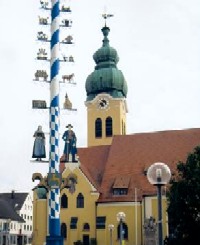 The market town of Wolnzach is easy to reach via the freeway A 93 between Munich and Regensburg and the nearest train station it's only four kilometers away. With an area of 1,800 ha, Wolnzach is also the largest hops producing community in Germany, and the undisputed hops center of Pfaffenhofen on River Ilm County.
About 11,500 residents live in an area of about 91.5 sq.km., enjoying the numerous public institutions as well as a large variety of shops and stores. The informal title of "Hops Metropolis" is due to many hops-related institutions which are situated in this town.
The German Hops Museum is well known far beyond the region due to its architecture; just as unique is the museum of "Cultural History of the Hand". On the "Hallertau Education Path", much can be learned about hops and the Hallertau region. Also worth a visit is the church ("Hallertau Cathedral"). Special events include the Bürgerbräu Brewery, the Circus Tonelli, the fair with the coronation of the Hops Queen, and the parade. Several guesthouses and a large hotel provide accommodation for guests. And the traditional cuisine is more than enough reason to stay around.