Counties & Cities
>
Lower Bavarian Counties
>
Freyung-Grafenau County
>
Innernzell
---
Hotels/Accommodation: no business registered - register your business - vicinity search
Food & Beverages: no business registered - register your business - vicinity search
Nightlife/Scene: no business registered - register your business - vicinity search
Shopping & more: no business registered - register your business - vicinity search
---
Innernzell
Welcome to Innernzell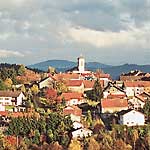 The village Zell was first mentioned in 1195. The name originates from a hermitage that was probably built around the beginning of the 11th century.
Houses and estates were built around this hermitage, a small church was errected and thus a parish was founded. In 1429, the place was renamed Innernzell and today it is a rural community with approximately 1700 inhabitants.
Hiking
Innernzell lies in close proximity to the 1016 m high Brotjacklriegel mountain. ´There is a wonderful lookout tower with a view over the entire Bavarian Forest. 300 m south of the village start the large forests of the Aschensteiner Wald, the Brotjackelriegel area and Sonnenwald. There are lovely walks on desolate forest trails through unpoilt nature.
Leisure Facilities
Cross-country ski runs in winter, bowling for groups and families, a library, tennis, indoor and outdoor pools in the surroundings and a beautiful pond.