Counties & Cities
>
Allgäu - Bavarian Swabia Counties
>
Upper Allgäu County
>
Bad Hindelang
---
Hotels/Accommodation: Alpenlandhotel Hirsch - search more business
Food & Beverages: Alpenlandhotel Hirsch - search more business
Nightlife/Scene: no business registered - register your business - vicinity search
Shopping & more: no business registered - register your business - vicinity search
---

Bad Hindelang
Welcome to Bad Hindelang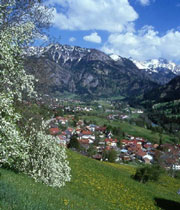 How to get there
By car: A 7, B 310, B 19 and B 308; Nearest railway station: Sonthofen; Bus access 7 km
Sports and Nature
Pioneer project "Hindelang - Nature & Culture" - Europa Prize 1996 "Tourism for Tomorrow". All-German prize in 1996 "Environmentally-friendly tourist resort in Germany". Decentralised worldwide project Expo 2000, mountain forest path, cultural landscape path, tennis, minigolf, climbing garden. Chairlift and cable car, geological and high moor trail, heated outdoor swimming pool, bike park, healing climate Nordic Fitness Park and much more.
Health and recuperation
Bad Hindelang along with Bad Oberdorf, Oberjoch, Unterjoch, Hinterstein, and Vorderhindelang is a climatic health resort and Kneipp health resort. 14 clinics, sanatoriums and health institutions, alpine allergy station at high altitude, climate pavilion and terrain health and recovery paths of Oberjoch-Unterjoch: air quality class 1, no dust mites, few mould spores. A holiday from allergies, in- and out-patient health cures.
Culture and Tradition
Maria Krönung altar by Jörg Lederer (1519), portrait of the Madonna by Hans Holbein the Elder (signed 1493), 500-year old smithies. Forest festivals, bonfires, cattle drive, cheese-making demonstrations.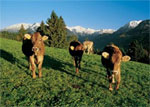 Specials for tourists
Tourist ticket for bus and railway, hikes of special botanical interest, family hiking path. Special brochures: "Alpine Allergy Station", Children's Holiday Programme.