Counties & Cities
>
Allgäu - Bavarian Swabia Counties
>
Upper Allgäu County
>
Balderschwang
---
Hotels/Accommodation: no business registered - register your business - vicinity search
Food & Beverages: no business registered - register your business - vicinity search
Nightlife/Scene: no business registered - register your business - vicinity search
Shopping & more: no business registered - register your business - vicinity search
---
Balderschwang
Welcome to Balderschwang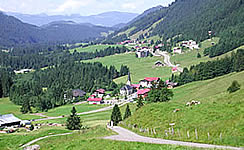 How to get there
By car: B 19 via Sonthofen-Fischen-Riedbergpaß; Nearest railway station: Fischen; Bus access
Sports and Nature
Highest Bavarian holiday resort, oldest yew tree in Germany (2000 - 4000 years old), extensive network of hiking and touring routes, above-average sunshine. Varied skiing region (beginners up to FIS level)- more than 50 km of cross-country ski tracks - assurance of snow.
Health and recuperation
The climate of Balderschwang is a transitional type between medium and high mountain climate. It has the healing properties of both climate types without the disadvantage of the low 02 partial pressure of health resorts at high altitudes. There are special weeks for fasting, and combined fasting and hiking holidays.
Culture and Traditions
Folk evenings, slide shows.
Tourists' Specials
Guided hiking, mountain and mountainbike tours, snowshoe trials, international alpine skiing. Bus trips to places of interest, visits to Alp dairies.