Counties & Cities
>
Upper Bavarian Counties
>
Altötting County
>
Burghausen
---
Hotels/Accommodation: no business registered - register your business - vicinity search
Food & Beverages: no business registered - register your business - vicinity search
Nightlife/Scene: no business registered - register your business - vicinity search
Shopping & more: no business registered - register your business - vicinity search
---
Burghausen
Welcome to Burghausen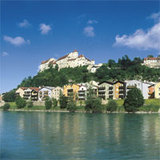 The walls, pinnacles, and towers of the world's longest castle (1,043 meters) seem to extend eternally on the narrow castel rock. From the castle, you get a brilliant view onto the picturesque town square, onto alleys, that appear almost mediterranean and onto the historic town center with its magnificent rows of houses built in the architectural style typical of the Inn-Salzach region.
Framed by the Salzach River and the well-wooded foothills of the Alps – a picturesque scenery. On the other side of the town there is the idyllic Lake Wöhrsee: Right at the foot of the castle, it is both a nature reserve, and a recreational paradise with its lido, rental boats, miniature golf, educational nature and hiking trails.
A boat ride on a typical "Plätte" boat (a type of barge) offers a unique nature experience; for ninety minutes, the flat boat floats calmly down-river through the Salzach Valley.
For those trying to stay in shape, there is tennis, soccer, golf, or several swimming pools. A range of non-sports leisure activities is offered to fill days and nights: be it events or museums, shopping or going out or festivals and celebrations.
Burghausen shines with art in a unique natural landscape, a dynamic character, and a cultural vitality second to none.